Room: C-171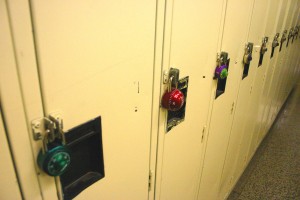 Once you have retrieved your schedule, go to the Cégep portal where you will be able to choose your locker by clicking on the locker option using the Omnivox online services. Note that each locker is assigned to just one person.
For any problem related to your locker, go to Room C-171.
If you do not wish to use your locker (no fee) or want to change lockers ($10 fee). Go to Room C-171 to make the change.
If you use a locker that is not the one that was assigned to you, you risk having your lock and your belongings removed without warning. You will be able to retrieve these items at the guards' desk.
For hygienic and safety reasons, it is forbidden to leave perishable or flammable goods in your locker.
The Cégep assumes no responsibility for items lost through theft or vandalism. Be careful and do not leave valuable items in your locker.
If your locker is broken or damaged by graffiti or collage, it will be repaired at your expense. The costs are: $25 to clean, $100 to repair the door, $100 to repair and paint the locker.