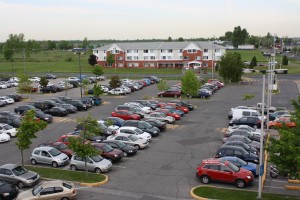 The sale of parking permits is done online through Omnivox, Permis de stationnement module. This module is accessible at the start of each session, according to a date defined by the Cégep and communicated to the students. The module is then available at all times during the session. The online transaction must be paid by credit card (Visa and MasterCard).
Please note that there is no refund.
You may pick up your parking permit in Office C-171.You must present your electronic student card to collect your permit.
For new students: you must go to local C-170 to get your student card to get your parking permit.
For more information:  450-679-2631, ext. 2311, or Room C-112.
The rules for using the parking lot are available on ENA's Website in French.