Some professors may ask to print documents as part of a course. You must therefore ensure that you have printing credits available during the session, to be used as needed.
In order to use the printers at ÉNA, you must first pay for printing credits either at the bookstore cooperative or online via your Omnivox portal. To pay for credits online, click the link for print credits (Crédits d'impression) in the left column under the tab for your Omnivox services (Mes Services Omnivox). This link also allows you to check the balance and history of your purchases and prints.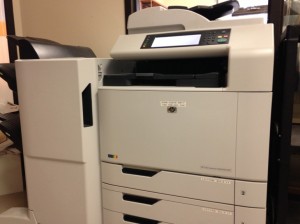 Printing Costs:
$ 0,07 Black, one-sided
$ 0,05 Black, two-sided, per side
$ 0,40 Colour, one-sided
$ 0,40 Colour, two –sided, per side
Note that your print credits remain available in your account for the duration of your studies at the Cégep.
For more details, consult the Cégep's Techno site.