Textbooks and Course Notes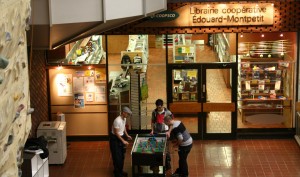 At the beginning of the session, your teachers will provide a list of the books and course notes you will need. These books and course notes are available in the co-op. Also, many of your teachers will produce documents that they will make available to you using the LÉA internal messaging system.
During this same period, students who wish to sell their used books need to go to C-80 to fill out a card for this purpose. The Office of Student and Community Affairs will then place the notices in the main corridor leading to the A-22 hangar.
---
Course Outline
The course outline distributed by your teacher at the beginning of the course (in class or by LÉA available on Omnivox Services) was adopted by the Department and submitted to the Director of Studies. All of the course outlines are available on CDROM at the library for consultation. This document is, to some degree, a contract between the students and the teachers. Consequently, it should be read carefully and used as an instrument to facilitate your progress.
Students should also read the Institutional Policy on the Evaluation of Student Achievement (IPESA).
It is possible to obtain a copy of the course outlines of previous sessions by contacting the contact person below.
Regular classes
Continuing Education Courses (AEC)